StarGenetics
StarGenetics is a Mendelian genetics cross simulator developed at MIT by biology faculty, researched-trained scientists and technologists at MIT's OEIT. StarGenetics allows students to simulate mating experiments between organisms that are genetically different across a range of traits to analyze the nature of the traits in question. Its goal is to teach students about genetic experimental design and genetic concepts. For more information on StarGenetics click here.
Using StarGenetics
StarGenetics is freely accessible via the web. Press the Start button to get started.
Overview
StarGenetics can be used to teach simple genetics concepts that are appropriate for high school biology students as well as complex genetics concepts that are appropriate for advanced biology undergraduate students.In addition,StarGenetics allows for instructors to customize the exercises presented to the student. To find out how to create your own StarGenetics exerciseand for more information on the concepts that can be taught using StarGenetics, click here.
StarGenetics simulates genetic experiments using known model organisms such as Mendel's garden peas, flies (Drosophila melanogaster), and yeast (Saccharomyces cerevisiae). StarGenetics simulate crosses in cows, which can be use to explore traits in organisms with similar genetics to humans. In addition, StarGenetics can simulate crosses between non-model organisms such as "smiley faces", which are typically used for introducing genetic concepts to younger audiences. The following are the currently available visualizers for StarGenetics:
Cow
Fish
Fly
Peas
Smiley Face
Yeast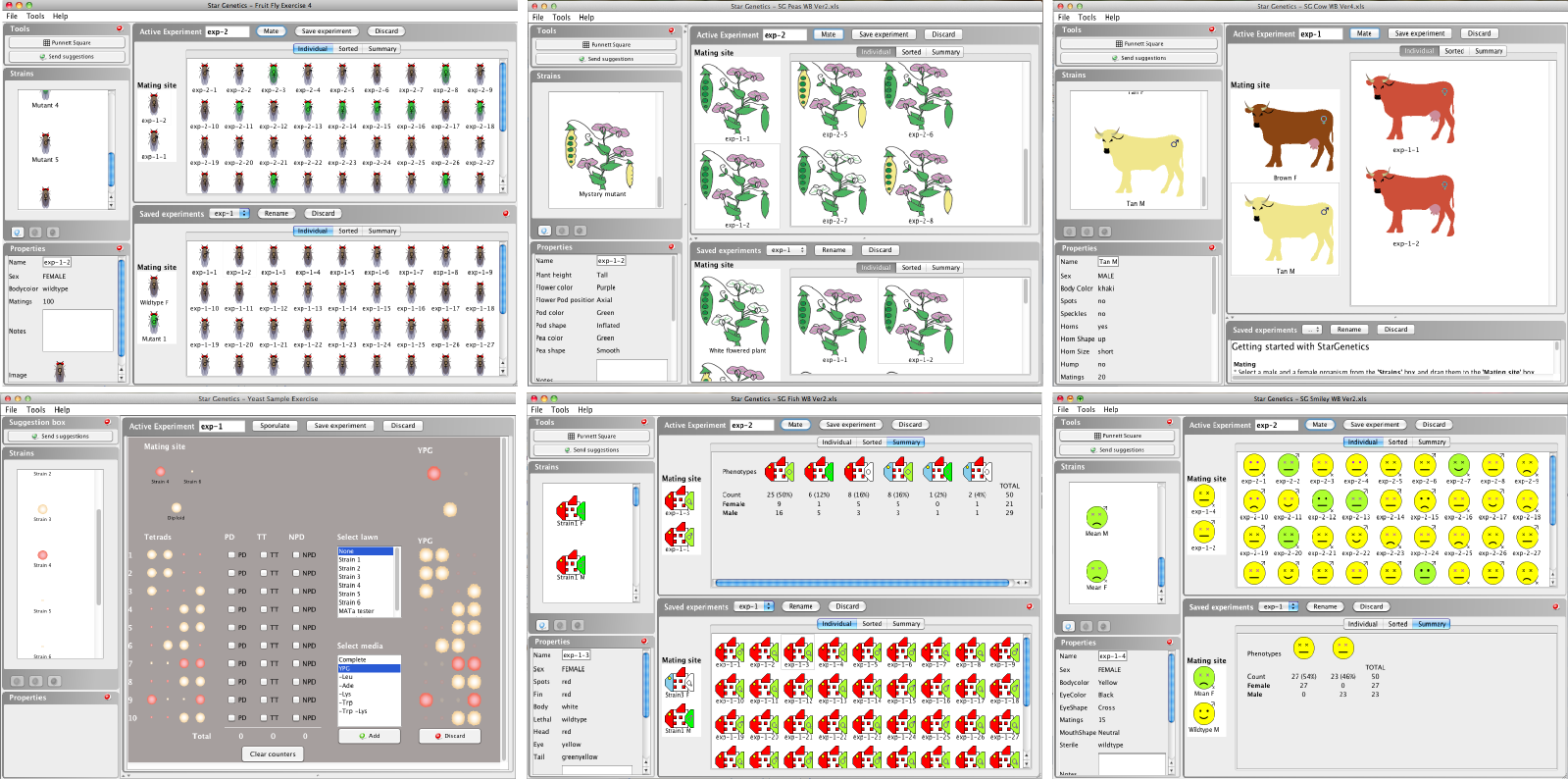 Examples of genetic experiments in each of the different StarGenetics visualizers (from left to right, clockwise): Fly, Peas, Cow, Smiley Face, Fish, andYeast visualizers. (Click on the image for a larger view)